What We Do:
We can help you become an explanation specialist.
Common Craft Membership
Start your life as an explainer with Common Craft Membership. Prices start at just $49 per year. It provides:

Make your presentation or video remarkable with 800+ digital images in Common Craft Style, plus Know-How resources for using them.

Educate others with 50+ ready-made video explanations that you can embed on your website or download for offline use.
We Wrote the Book on Explanation
Need a Video for Your Product?
Teach with videos that explain complex ideas quickly.
Video Transcript
網際網路有麻煩了
Technorati網站說
現在有五千萬個部落格
而且還正不斷增加
這讓人招架不住
我們要找個更新更有交的辦法
來密切注意網路上發生的一切
老法子太慢了
不好!
現在有更快的新方法
好耶!
新方法和老方法的分別是這樣:
這個是您
這些是您最喜歡的網站
您用電腦找些新鮮的事物
您查看部落格
有新東西嗎?
沒有
您查看新聞網站
有新東西嗎?
沒有
在您查看新東西的時候
如果沒有
您就浪費了寶貴的時間
那是老法子
現在我們來看看更快的新方法
簡單來說就是把這些箭頭轉過來
您喜歡看的部落格和網站
會來找您
就如租賃公司netflix
跟錄影帶店比較
單一個網站成為了您的家
閱覽您喜歡的網站一切新的東西
有兩個步驟
首先創立一個
用來閱讀新資訊的主頁
這是一個叫閱讀器的網站
只需一個免費的電子郵址
我用Google 閱讀器
看起來是這樣子的
我喜歡的網站在左邊
在右邊,我可以從下滑動
在一個地方看所有新內容
要完成第一步
您要先加入一個新聞閱讀器
第二步是設定聯繫
連接您的閱讀器和您喜歡的網站
這叫做訂閱,而且非常重要
您幾乎可以訂閱每一個部落格
和新聞網站
這些網站一有新的內容
就會顯示在您的閱讀器
要設立訂閱服務
只要找這些圖標
這是標準的橘色圖標
或是像這些
這些圖標的意思是「來呀
訂閱我,能替您省時間」
找您喜歡的網站圖標
點一下
您就可以依指示訂閱
點了圖標之後
可能會出現兩種網頁之一
這個讓您點一次
就訂閱到您的閱讀器
另一種可能出現的網頁
像這樣,上面有號碼
看到這種網頁就複製它的網址
回到您的閱讀器
找那個說「添加訂閱」
或「添加摘要」的鏈接
點一下
並且把網址貼在您的閱讀器
一設定好訂閱,新的內容
就開始送到您的閱讀器
您就明白為什麼
這是閱讀網頁更新、更快的辦法
這很容易讓人上癮,所以請小心
簡要重覆一遍
您需要做兩件事情
第一、加入一個新聞閱讀器
第二、到您喜歡的網站
點擊圖標就可以訂閱
 
What it teaches
This video introduces RSS as a way to subscribe to websites and save time on the Web. An "old vs. new" theme illustrates how RSS differs from visiting web sites independently, including:
The new and old ways of reading news on the web
An introduction to RSS Readers (using Google Reader as an example)
How to identify and subscribe to an RSS feed
What to expect when using an RSS reader
Features of Common Craft Membership
We wrote the book on explanation.
Who uses Common Craft?
Businesses and schools, large and small, in over 50 countries enlighten and motivate with Common Craft explanations.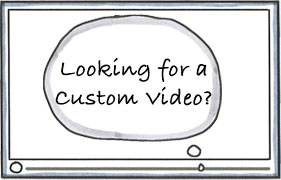 Common Craft Custom Videos
We can help you get a custom video that explains your product or service.