What We Do:
We can help you become an explanation specialist.
Common Craft Membership
Start your life as an explainer with Common Craft Membership. Prices start at just $49 per year. It provides:

Make your presentation or video remarkable with 800+ digital images in Common Craft Style, plus Know-How resources for using them.

Educate others with 50+ ready-made video explanations that you can embed on your website or download for offline use.
We Wrote the Book on Explanation
Need a Video for Your Product?
Teach with videos that explain complex ideas quickly.
Explained by Common Craft
Video Transcript
Gyakran egyetlen dolog áll
bizalmas adataid
és a bűnözők között.
A jelszavad.
Ha megszerzik, hozzáférnek
a bankszámládhoz meg az anyagaidhoz,
és tarolnak.
Ezért fontos tudni, hogy
mitől erős és biztonságos egy jelszó.
Jó eséllyel minden nap
használsz jelszót.
A komputeredre és weboldalakra
így lépsz be, így dolgozol.
Könnyű egyszerű jelszót választani,
ami mindenhol beválik.
De sajnos ez gondot jelenthet.
A bűnözők ügyesen
kitalálják a jelszavakat.
Némelyik programja
több milliószor próbálkozik,
amíg valami be nem válik.
Ha már tudnak rólad valamit,
akkor még könnyebb a dolguk.
A te feladatod olyan jelszót választani,
amit nagyon nehéz kitalálni.
Mégpedig így.
Elsőnek talán a házi kedvenced
neve, egy születésnap,
cím, vagy egy telefonszám
része jut eszedbe.
Ezeket a bűnözők könnyűszerrel
felfedezik, úgyhogy ne válaszd.
A jelszavadban ne legyen
veled kapcsolatos információ.
Szerencsére van mód nehezen kitalálható,
de megjegyezhető jelszót alkotni.
Lássuk csak.
Szavakon kívül
kifejezésekre is jól emlékszünk.
Lehet egy kedvenc dal szövege,
vagy idézet.
Vegyük példának ezt:
"boci, boci tarka, se füle, se farka".
Ezt ugye, hogy nem nehéz megjegyezni?
Nos, tessék a jelszavad.
Minden szó kezdőbetűje.
Ebben az esetben
a jelszavad bbtsfsf.
És ezt nem találják ki egykönnyen.
Mégpedig ezért.
Először is, nincs benne a szótárban.
Így nehezebb találgatni.
Az angol nyelvben úgy 60000 szó van.
A komputer ezeket elég gyorsan le tudja
tesztelni, úgyhogy ne ilyet válassz.
És ez még nem minden.
Ez a jelszó erősebb is lehetne,
ha lenne benne nagybetű, szám,
vagy speciális karakter.
Ez így már egy nagyon erős jelszó.
De még mindig van kockázati tényező.
Ha leírod,
nagyon nézd meg, hogy hova teszed el.
A hátad mögül figyelhet valaki,
vagy rátalálhatnak a kukában.
A szeretteidnek adni is kockázatos.
Lehet, hogy nem olyan óvatosak, mint te.
A jelszavadat csak te ismerheted.
A bűnözők megpróbálhatják
telefonon megtudni tőled.
Telefonon soha senkinek
ne áruld el a jelszavad.
És légy óvatos,
ha mailben kérik a jelszavad.
Valószínű csalás.
Ne mindenhol ugyanazt a jelszót
használd, hogy ne legyen gond.
Olyan, mintha egyetlen kulccsal
nyitnál mindent.
Nagy a tét, ha el találod veszíteni.
És légy óvatos, ha nem a saját
komputereden vagy.
Tegyük fel, hogy a mailed egy üzletben,
vagy könyvtárban nézed meg komputeren.
Belépsz, megnézed a mailed, és távozol.
A következő ember a számítógépen
hozzáfér az email fiókodhoz,
és abban minden információhoz.
Mindig lépj ki
minden oldalról,
ha nem a saját komputereden vagy.
A jelszó a netes élet alapvető része.
Ha nem tartjuk titokban,
nagy baj forrása lehet.
Ha megértjük a kockázatot,
és erősebb jelszót választunk,
nőhet a biztonságérzetünk.
 
What it teaches
Passwords are essential to using the Web and criminals have become very good at guessing them. This video teaches the risks and how to create a secure password and keep it secret, including:
Common risks related to passwords
Creating a secure password
Keeping your password secret
Risks of using shared computers
Features of Common Craft Membership
We wrote the book on explanation.
Who uses Common Craft?
Businesses and schools, large and small, in over 50 countries enlighten and motivate with Common Craft explanations.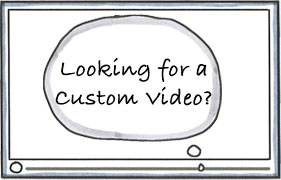 Common Craft Custom Videos
We can help you get a custom video that explains your product or service.