What We Do:
We can help you become an explanation specialist.
Common Craft Membership
Start your life as an explainer with Common Craft Membership. Prices start at just $49 per year. It provides:

Make your presentation or video remarkable with 800+ digital images in Common Craft Style, plus Know-How resources for using them.

Educate others with 50+ ready-made video explanations that you can embed on your website or download for offline use.
We Wrote the Book on Explanation
Need a Video for Your Product?
Teach with Videos. Create with Cut-outs.
Membership Starts at $49/yr and Provides Access to Two Libraries:

Educate others with 60+ ready-made videos. Embed them on your website or download for offline use.
Ready-made videos designed for teaching. Cut-outs designed for visual presentations.
Teachers & Schools
Introduce faculty and students to complicated subjects quickly with our videos.
Use Common Craft Cut-outs and Know-how for memorable classroom projects.
Businesses
Display videos in internal training to keep employees up-to-date. Educate customers on public websites.
Use Cut-outs and Know-how to create remarkable presentations.
We offer three plans that provide instant access to our cut-outs, videos or both.
DIY Explainer
Features Include:
Cut-outs: Download 1300+ digital images in Common Craft Style. 
Know-how: Learn to create your own explanations and videos.
Includes GoAnimate coupons
Transform how you communicate.
Explainer Basic
Features Include:
All DIY Explainer Plan Features PLUS:
Download or Embed up to 3 ready-made Common Craft videos.
Use our videos in classrooms, public websites, Intranets, LMSs. 
All videos available with English captions, many in 8 languages.
Make your message remarkable.  
Explainer Pro
Features Include:
Access to EVERYTHING we offer.
Download or Embed all 60+ ready-made Common Craft videos.
Access 1300+ Cut-outs plus all Know-How guides & resources.
Educate others with our videos or create your own. 
Become an explanation specialist.
Starting at $159 per year
Common Questions About Using Videos:
What can I do with Common Craft videos?
Our videos are used by educators and professionals to make technology and other subjects easier to understand for their audiences, online and off. The videos serve to introduce complex ideas like website evaluation, cloud computing or virtual private networks. They can be used as a stand-alone resource and work particularly well to set the stage at the beginning of a lecture, presentation or discussion.
Can I embed Common Craft videos on public websites?
Yes! We provide embed codes, just like a YouTube video. This means you can use the videos for content marketing, in blog posts and for educating visitors to your website.  You also have the choice to embed videos with English captions. 
How can I use Common Craft videos in my presentations or training sessions?
We make it easy to download the videos so they can be used across platforms. The files are provided in standard Windows (WMV) or Quicktime (MOV) formats and can easily be inserted into presentation software like PowerPoint or Keynote. Another option is to embed the videos on a website and visit the website in during your presentation.
Can I upload the videos to YouTube, Vimeo, TeacherTube or other video sharing sites?
No. We do not allow our ready-made videos to be shared on these platforms.
Can I share Common Craft videos on my Intranet or Learning Management System?
Of course! This a very popular use of the videos. Organizations can embed the videos or download the files and share them on their network. Many members use the videos as part of a knowledge base for teaching technology basics. Individuals are welcome to place videos on  LMS pages which are meant for their specific classes.
Common Questions about Cut-outs and Common Craft Style Videos
What do people do with Common Craft Cut-outs?
Cut-outs are digital images (.png) that can downloaded and used in multiple ways. Many members use them to create their own "Common Craft Style" videos.  Others use them to make presentations and documents more fun and interesting. 
How can I create my own Common Craft Style video?
There are multiple options and we provide members guides and resources for producing the videos.  This short video below help you understand the options: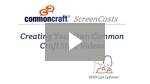 Can I share my own Common Craft Style videos on sites like YouTube?
Yes.  We only ask that you use the phrase "Common Craft Style" and not "Common Craft" as this is a registered Trademark.
Can I make a Common Craft Style video about my company, product or service?
Yes! This is a great use of the Cut-outs. But please note, no Cut-outs or videos made with Cut-outs can be resold. For example, you can make Common Craft Style videos about your own business, but cannot sell the videos.