What We Do:
We can help you become an explanation specialist.
Common Craft Membership
Start your life as an explainer with Common Craft Membership. Prices start at just $49 per year. It provides:

Make your presentation or video remarkable with 800+ digital images in Common Craft Style, plus Know-How resources for using them.

Educate others with 50+ ready-made video explanations that you can embed on your website or download for offline use.
We Wrote the Book on Explanation
Need a Video for Your Product?
Teach with videos that explain complex ideas quickly.
Cloud Computing spiegato da Common Craft
Video Transcript
In passato i computer lavoravano da soli – in casa o in azienda. Ma grazie a Internet, ora possiamo usare il potere dei computer in un luogo completamente diverso, nella cosiddetta "nuvola".
Questo è Cloud Computing spiegato da Common Craft.
Ecco qui Lucy del Lucy's Lilies, una nuova fiorista. È preoccupata della gestione delle consegne dei fiori. Si preoccupa di assumere gli autisti e di mantenere operativi i furgoni. Ma questa responsabilità la rende nervosa.
È una fiorista, non un meccanico. Le consegne sono una distrazione.
Il budget è limitato e la gestione delle consegne è costosa.
Inoltre, è difficile stimare il numero di furgoni necessari. L'attività soffre se il numero di consegne diminuisce.
Poi scopre che esiste una nuova azienda di consegne con una flotta illimitata di autisti e furgoni che può usare secondo necessità, pagando solo ciò che usa. Affida quindi le consegne a questa azienda.
Anni dopo, raccoglie i frutti di questa scelta intelligente. Ora ha diversi negozi e nuovi problemi.
Ha siti web, server e database da gestire presso la sua sede. È un costo enorme e un motivo di preoccupazione. La capacità di memoria continua ad esaurirsi e ci sono sempre guasti ai server.
Sente parlare di Cloud Computing, che funziona un po' come le consegne. Invece di gestire importanti tecnologie in loco, ne affida la gestione a un nuovo tipo di azienda.
Hanno tutto il potere informatico che le serve ed è tutto protetto. I dati sono salvati in un altro posto – nella cosiddetta "nuvola" e sono accessibili tramite il web.
Ciò significa che può affidarsi ai computer di una Cloud Company che l'aiuterà a gestire la sua attività e a concentrare le energie sui fiori.
Ma non è tutto. Grazie al Cloud Computing, i computer non limiteranno la sua attività. Queste aziende hanno risorse e capacità di memoria praticamente illimitate, quindi lei può sviluppare la sua azienda senza problemi. E poiché vengono fatti backup dei server in più luoghi, le sue informazioni sono protette.
Ma la cosa migliore per lei è pagare solo per l'uso effettivo. Se l'attività va a rilento, i suoi costi possono diminuire.
Grazie al Cloud Computing, può usare nuovi tipi di servizi presenti nella nuvola e accessibili esclusivamente tramite il web.
Se le serve un nuovo sistema di fatturazione, può scegliere se installare e supportarne uno in loco, oppure usare un prodotto che vive nella nuvola e funziona tramite il suo browser.
Da e-mail a elaborazione testi o photo sharing, il Cloud Computing funziona anche per noi. Anche noi possiamo usare i prodotti nella nuvola: sono sicuri e protetti, e accessibili da qualsiasi connessione Internet.
Il Cloud Computing ci offre nuove possibilità. Aziende e individui possono preoccuparsi meno della tecnologia e concentrarsi invece sulle cose che contano.
Questo era Cloud Computing spiegato da Common Craft.
What it teaches
Tramite una semplice storiella di un fiorista, questo video spiega le basi del cloud computing, come funziona e perché é utile per sia per le aziende che per gli  individui. Il video tratta:
La differenza tra on-site computing e cloud computing
I benefici finanziari derivati dal cloud computing
Cosa rende il cloud computing sicuro ed efficente
L'impatto che il cloud computing ha sui consumatori
Features of Common Craft Membership
We wrote the book on explanation.
Who uses Common Craft?
Businesses and schools, large and small, in over 50 countries enlighten and motivate with Common Craft explanations.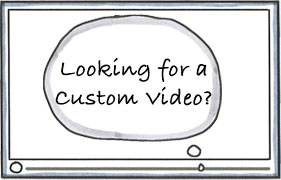 The Explainer Network
Our network of custom video producers can create short, animated videos that make your product or service easier to understand.